Did someone say Black Friday? Yaaas girl! ?The day's almost here to make all yo' fashion wishes come true! ?
Ain't got time for queues? Then ditch it & save your energy for clicking your way thru retail therapy. ?
Also, bonus – do the damn thing in your PJs or loungewear. Couldn't get off work? Then do it from your ? wherever you are babe!
Here's how to shop online on your phone like a piece of cake… ?
1. Locked on you ???
Check that the mini padlock is at the bottom of the web page & make sure that www.thefix.co.za starts with https whenever you hit up our online store. This just means it's safe to shop. ?
2. Register or sign in & get on the #winning list ✨✨✨
? Say buh bye to #FOMO – we'll send you emails about what's new & poppin' online
? Spend more time shopping – save delivery & payment deets for quick-fast checkout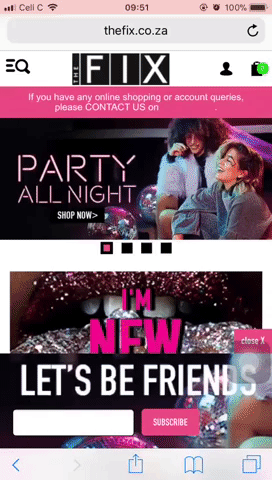 3. Shop 'til you drop ?‍?‍?‍
? Check out what's new or search for what you're looking for
4. Make it rain ???
? Choose our FREE collect in-store delivery option – selected TFG stores only OR
? R500 buckaroonis or more will get you FREE delivery. Short R50? Check out our accessories for that EXTRA's to fill up your bag. ?
5. Kick it back cool ???
Don't forget to tag us in your OOTD's using #slayingthefix after your delivery comes thru drippin' (drip drip). ??
Did someone say FREE returns? ?
But of course! Just take the item & proof of purchase back to your closest The FIX store or holla at our call centre with your order # if you'd like the item to be collected. Yaaaas! ??
Call your girls 'cos ya'll are going shooopping! ???