Let's take it back, real back, back into time! ⌚ Remember Clueless? Iconic in the movies & now iconic on the streets. ?
From yellow gingham, to contrast stitch & a-line skirts, the 90's chick flick has done the MOST by inspiring this new SS18 trend. ???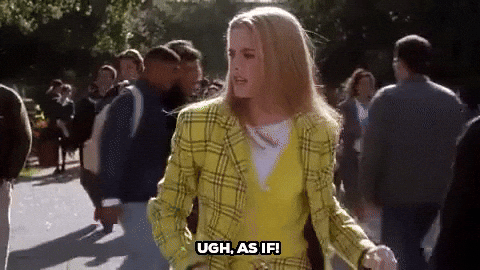 Source: Giphy
Let's hit rewind to the 90's quick-fast & style this trend for ya so that everyone goes 'Who dat?' when you walk into the room…
Check Mate ?
We're feelin' nostalgic over the yellow gingham skirt, but not that school uniform kinda nostalgic. ☝
Ditch the shirt & blouse & go for the sleeveless denim jacket & baesic white tee for that sporty vaaab. ???
The contrast stitch – so hot RN, ICYDK ?
Say "Hey Boo" to the contrast stitch denim, where low-key detailing is upping black denim's game. Thanks Kourts for the go-ahead! ?
Pull off the denim on denim killer combo or wear them as separates for extra mileage. ???
Baby G, you're FADED ?
The a-line skirt: easy to wear & rough 'round the edges, making for an approved LIT look. ❗❗❗
Stay true with the blue denim a-line skirt, fluffy sliders, moon bag & baesic tee.
Shop these looks in-store or online RN!